Equipment hire and services in the heart of Courchevel 1850
Equipment hire
Easy store
Bernard Charvin Sports hires the following equipment: skis, mono-skis, skwals, snowblades, snowshoes, cross-country skis and sledges, as well as Arva/Ortovox off-piste transceivers and helmets for your safety.
Adults or children will find the latest models and brands of skis for racing, freeride, carving, freestyle or specifically designed for women.
To save time on your arrival, we have set up a new online ski hire service.
At Bernard Charvin Sports, discover high end equipment for hire, in excellent condition. After every hire, the running surfaces of skis are fully refurbished, and boots are disinfected and dried for maximum hygiene.
---
Discover the VIP services of Bernard Charvin Sports
Bootfitting: "comfort your feet"
The basic principle of bootfitting is to produce boots that are perfectly adapted to each individual's requirements, by adjusting them to suit his or her anatomy and skiing style.
The skimen at Bernard Charvin Sports fit ski boots and soles to measure.
Ski delivery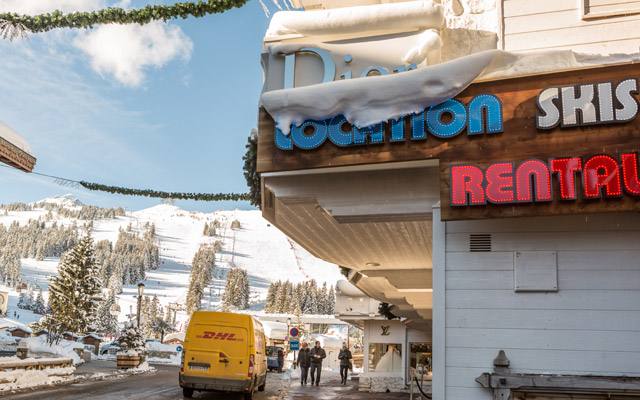 Bernard Charvin Sports also offers a home delivery service throughout the Courchevel resort. For any purchase from the store, or ski/board hire, we offer to deliver your equipment.
The workshop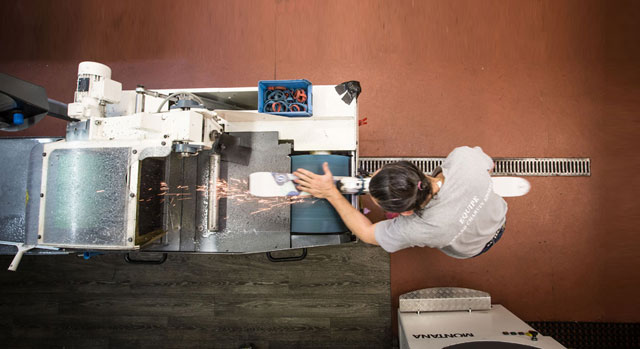 The Bernard Charvin Sports ski workshop, equipped with all the latest Montana machines, repairs your skis and keeps them in tip-top condition!
At Bernard Charvin Sports we treat your skis with respect, using cutting edge equipment such as the WINTERSTEIGER robot.
Grinding and flatness:
Grinding and flatness has a direct influence on the performance of your skis, their hold on the snow and regularity on bends.
Edge sharpening:
Edge sharpening makes your skis more manoeuvrable, giving you better control on bends and making skiing more precise and enjoyable for you.
Ski waxing:
Waxing is the main process involved in maintaining the base of your skis or snowboards. It consists of applying a hydrophobic compound for optimal slide, in order to nourish and protect the running surface and optimise sliding characteristics: the more a ski is waxed, the better it will slide along the snow.
Competition service:
The professionals at Bernard Charvin Sports offer a maintenance service for your competition skis.